About Your Trip
We offer premium Fishing Charters in Prince Rupert, BC. We specialize in fully guided custom fishing adventures from one to four days, either returning to town each evening, or staying in a remote accommodation, minutes from prime fishing grounds.
On your fishing vacation with us, we will supply you with a fully insured safe and comfortable boat; an experienced, certified and friendly guide, and all the premium fishing gear you will need to reel in the big one! We also offer private whale and marine wildlife viewing tours, kayak drop offs, and custom tours anywhere in the area you would like to go.

The Fish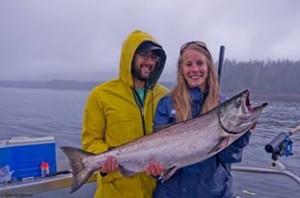 All five species of Pacific salmon are found in the waters surrounding Prince Rupert, the main targets being coho and chinook.
Migratory runs of Chinook (king/spring salmon) start in April, often with some of the fastest action of the season. Peak run times for these fish are between mid May and the beginning of August. Averaging 15-25 pounds, Chinook in the 30-40 pound range are not uncommon, and every year numerous fish over 50 pounds are weighed in. Our winter chinook fishery is spectacular in the protected waters of Prince Rupert Harbour. The fish average 8-15 pounds, and are some of the scrappiest of the year. Click here for more info on our off season charters.
With the condition of chinook populations on our coast and the downward trend in size, we have made it a policy of Sunset Charters to release chinook salmon over 30lbs (tyee). We feel that this is a small thing that we can do to try to preserve some of the genetics of these beautiful fish that we would like to see make a rebound for future generations.
Coho (silver) salmon start to show up at the end of June in the 5-8 pound range and increase in numbers and size until the end of September, when 12-15 pounders are common. Late July through mid-September are the peak times, and their ferocious appetites can mean non-stop action and acrobatic fights. This makes for extremely exciting fishing and extremely sore arms. If you are up for the challenge, bring your fly rod, or ask us to have one ready for you, and see if you can hang on to one of these feisty silver bullets.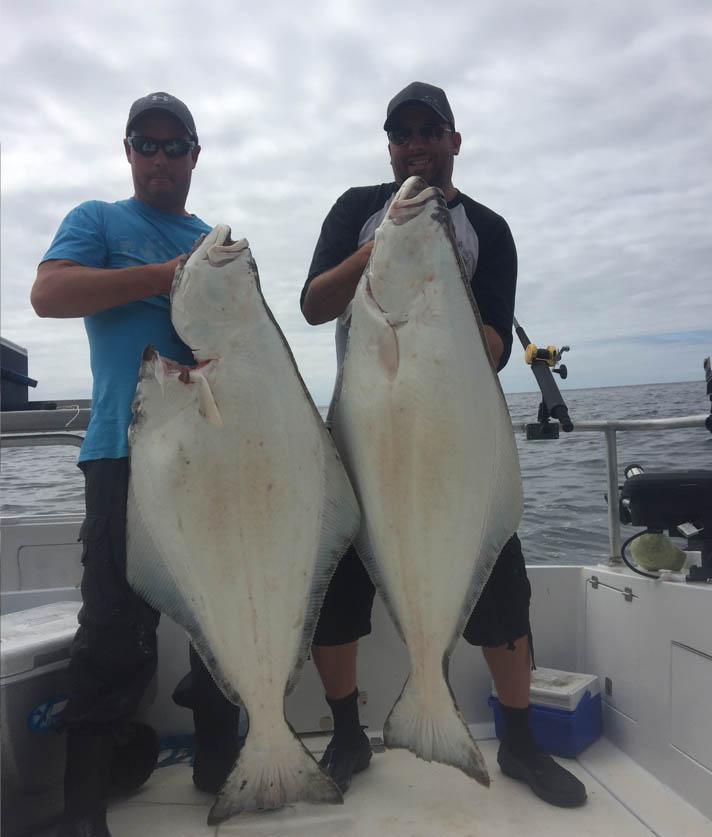 Prince Rupert boasts some of the absolute best halibut fishing on the west coast. These beasts are numerous and grow to astounding sizes in the seemingly never-ending shelves and pinnacles that provide them with shelter and food. Chicken holes can be found where it can be tough to get your bait to the bottom before getting a 10-25-pounder. Or try your luck fishing one of the many offshore structures, hoping for the big one.
Halibut to 80 pounds are common, a fish over 100 pounds is a real possibility, and 200+ pound halibut are caught every season off Prince Rupert.
Lingcod and Rockfish are also abundant in the area. Though some of the Rockfish populations are slow growing and sensitive to fishing pressure, others are prolific and sustainable, and local Lingcod populations are healthy on the many pinnacles and shelves.
The Boats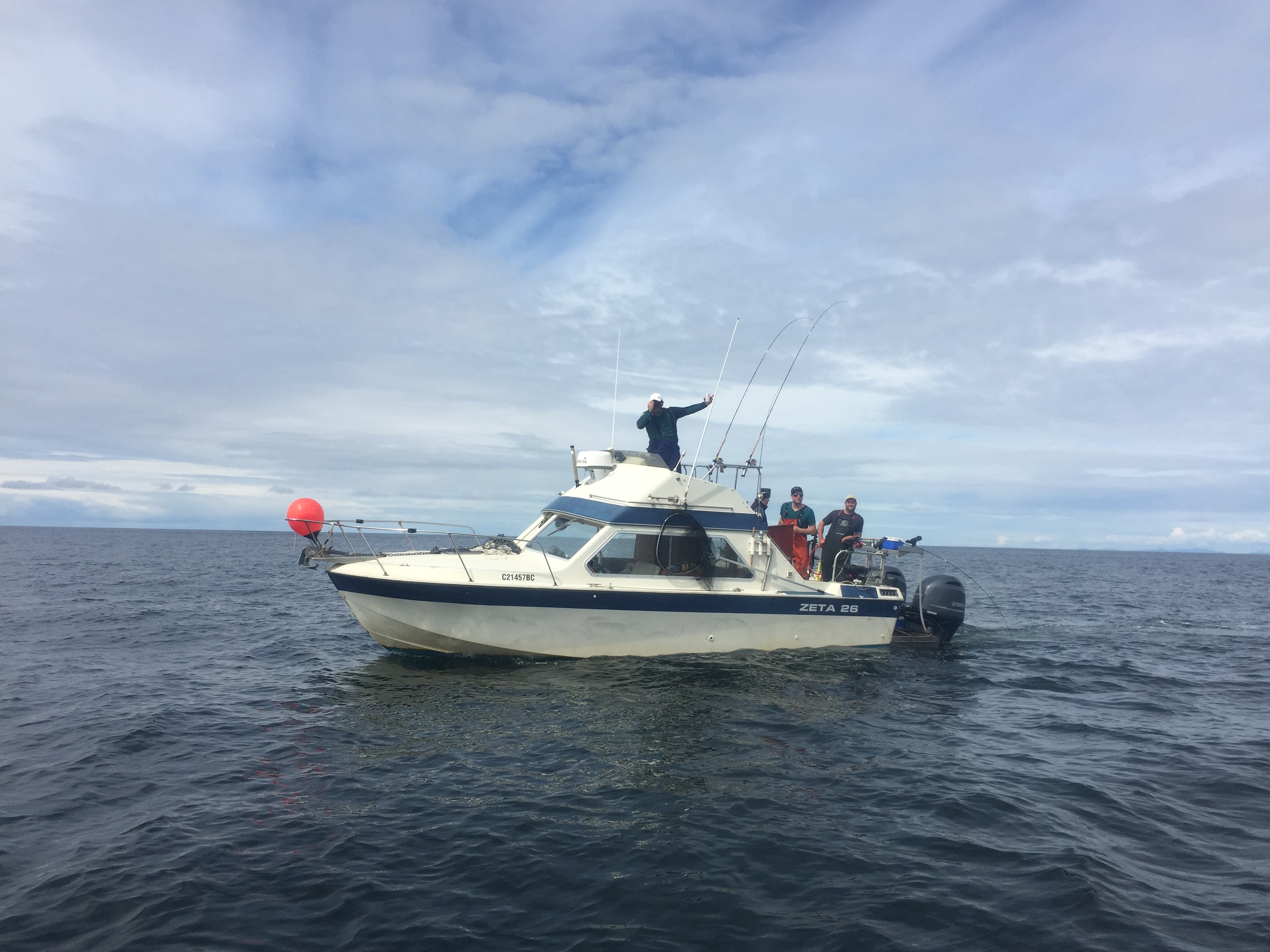 We operate three 26′-28′ command bridge cruisers with fully enclosed cabins and seating on the upper deck, and our latest addition to the fleet is a 26′ catamaran cruiser. All of our boats have been customized for safety, comfort, and fishability.  They are fitted with marine heads, four stroke trolling motors, Sirius Satellite Radios, electric downriggers, barbecues, alcohol stoves and all the Transport Canada-required safety equipment. Once you step on board you will feel safe and comfortable, and realize that these boats were meant to catch fish!

The Gear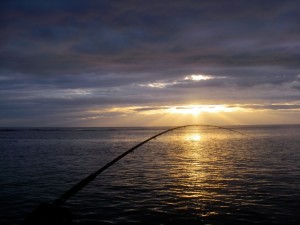 For salmon we use medium-action mooching rods matched with high end single-action reels to really let you feel the power of BC's most prized gamefish.
For halibut, medium- heavy action rods with levelwind reels give you the power and leverage needed to drag these monsters off the bottom.
Our tackle box is loaded with spoons, plugs, flashers and hoochies, and the bait box is always ready with top-quality herring and anchovies. We have what the fish want – and they will end up on your line.

Accommodations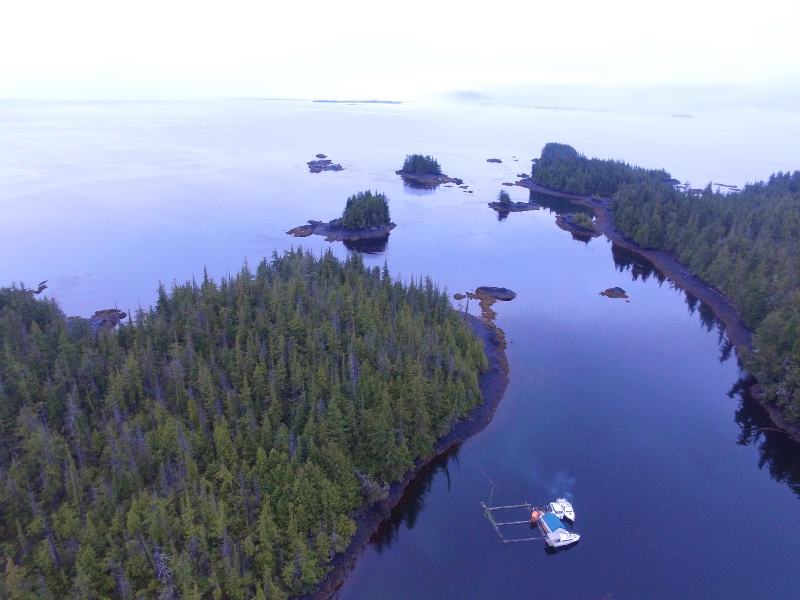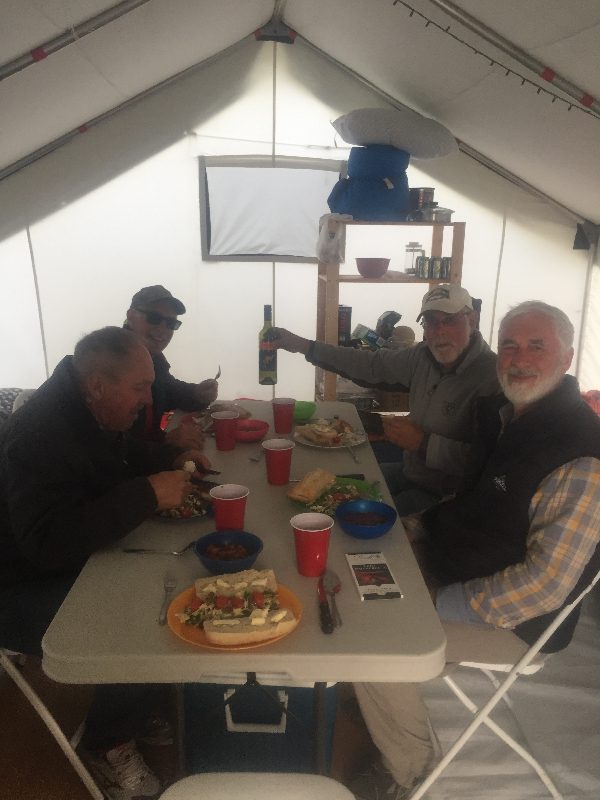 Our overnight dock is located in a remote bay minutes from some of the best salmon and halibut hotspots on the coast.
Accommodation is in a 14'x16′ Deluxe canvas wall tent, fitted with a wood stove and comfortable cots. There is a 10'x14′ awning on the front of the tent that covers an outdoor kitchen, and at the end of the dock there is a fire pit for relaxing around in the evenings.
Food is not included in the overnight charters. For your use, our kitchen is equipped with a three burner propane stove and small oven, a large BBQ, and a crab cooker. We also keep it stocked with all the cookware you will need as well as oil, and basic condiments and spices.

Avid or Aspiring Angler?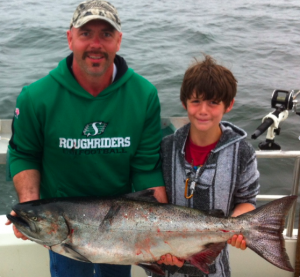 Not everybody who comes aboard wants absolutely everything taken care of for them. Some people have quite a bit of fishing experience and like to help with rigging the lines and getting the gear in the water. Whether you are an avid angler or a rookie, if you want to try your hand at hooking up the bait or setting the gear, we are more than happy to let you. Even if you have never baited a hook before, we can show you the way. From tying a knot to cutting a cut plug and sending it down with the downriggers, to filleting a halibut, we can go step by step to send you home with some extra knowledge to add to the memories of your trip. But if you would rather sit back and relax, you can do exactly that. Just make sure you're ready for the next bite!

Whether you are planning a trip with family, friends or business associates
let Sunset Charters show you fishing at its very best.
What You Need to Know For Your Charter
Our #1 Priorities
Your Satisfaction
Your Comfort
Your Safety
Catching Fish!
What We Supply
Safe, clean, comfortable fishing boat. (heated cabin and enclosed bathroom)
All fishing tackle (rods, reels, lures and bait)
Fish cleaned and bagged.
What We Offer
Friendly, family owned charter.
Guiding for novices and experts.
Competitive Prices.